Extension to West Link road consultation turned down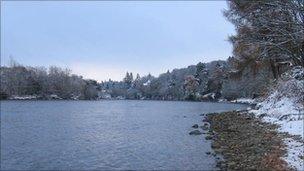 Highland Council has turned down a request for a further extension to public consultation on potential routes for a new road in Inverness.
The West Link aims to take traffic from the city's Southern Distributor Road to the A82, avoiding the city centre.
Highland had already extended the consultation period, but some residents had asked for more time.
The council said once it had analysed response it has received public views would be sought again on the plans.
Some residents have started a campaign to prevent the new road crossing public parks, including Whin Park.
A group of Inverness councillors from the west of the city have also united to raise concerns about plans put forward.
Ninety alternative ideas for the road were cut down to five options and put out for public consultation by Highland Council.
Tunnelling under the river and canal was suggested, but later ruled out.
Highland's director of Tec services, Neil Gillies, said a series of public meetings and exhibitions had been held on the proposals.
He added: "Following a request from a group of residents the consultation period was extended by two weeks to 11 February to allow late responses.
"The council has received a request for a further extension, however, we are now at the stage where we need to close the consultation and analyse the responses in detail.
"It is important to stress however that once this work is completed there will be a second opportunity for the public to comment on the outcome of the consultation."
Related Internet Links
The BBC is not responsible for the content of external sites.