Apprentices could help restore tug behind Nessie claims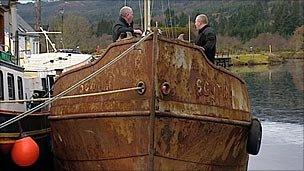 Apprentice engineers look set to help a father and son restore an 80-year-old ice-breaker tug whose wake on Loch Ness was mistaken for Nessie.
James Clark, a former skipper of the Scot II, and his son Dan have started a project to save the rusting vessel.
The duo from Fort Augustus have been offered assistance from Babcock apprentices and staff and students at Fife's Carnegie College.
The cost of the full restoration has been estimated at £375,000.
Offers of help from volunteers had reduced the cost from its original estimate of £750,000.
Built at Henry Robb shipyards in Leith in 1931, the Scot II operated on the Caledonian Canal from its home berth at Fort Augustus.
It was later used as a pleasure cruiser, a floating bar and restaurant before sinking near a boatyard on Bute.
Dan Clark said during the Scot II's time as a cruiser it was credited with sparking sightings of the Loch Ness monster due to the wave it created.
He said: "Twenty minutes after the Scot II past her waves were still on the loch and many people mistook that for the Loch Ness monster."
Mr Clark added: "From a historical point of view, we have got to try and restore her.
"It would be sad to see a part of Scottish history disappear when there is life left in the old girl yet."
Related Internet Links
The BBC is not responsible for the content of external sites.