Eight people caught in Cairngorms avalanches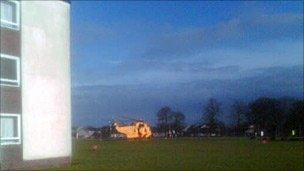 Eight people were caught in avalanche incidents in the Cairngorms over the weekend.
One of the casualties was airlifted to hospital in Inverness after he and a companion were avalanched at Coire an t-Sneachda on Saturday morning.
He was understood to have received treatment at Raigmore Hospital for back and ankle injuries.
Six other people were hit by a second avalanche nearby. None of the party were hurt.
Three off-duty instructors from the Glenmore Lodge national outdoor training centre, near Aviemore, went to the aid of those caught in the snow slides.
In the first incident, they estimated the walkers were carried about 200m (656ft) down the coire.
The instructors alerted Glenmore Lodge and, using rescue equipment stored in the coire, put the injured man in a stretcher.
The casualty was airlifted to hospital by an RAF Lossiemouth helicopter while his companion was able to walk off the hill.
Moments later, the instructors heard a second avalanche and saw six people being swept down another slope west of Goat Track, a route used to access the Cairngorm Plateau.
The six were carried over boulders and were able to walk away from the scene with cuts and bruises, but no serious injuries.
Related Internet Links
The BBC is not responsible for the content of external sites.