No Royal wedding holiday for two Scottish councils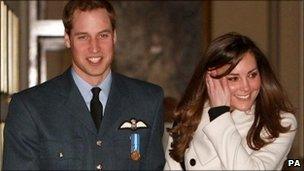 Two Scottish councils have said they will not let staff have a day off to celebrate the wedding of Prince William and Kate Middleton on cost grounds.
Highland Council's resources committee made the decision after being told that giving staff a holiday on 29 April would cost up to £200,000.
A public holiday has also been ruled out by Shetland Council, as it said it would cost about £375,000 in lost productivity.
The decision also applies to schools.
Highland Council said a fixed public holiday would cost £200,000 because cover would have to be brought in for frontline staff in areas such as social work and transport.
The authority also unanimously decided against granting staff an additional day of leave, which was estimated to cost £100,000.
The committee's chairwoman Carolyn Wilson said: "We wish the couple every good wish and I am sure our staff will see this happy occasion over and over again on their televisions.
"However, given the cutbacks we have had to make in recent times and will have to make in the future, it is not appropriate that we incur this extra expenditure to compensate staff, who will have to provide essential cover on this day."
Related Internet Links
The BBC is not responsible for the content of external sites.