Family given damages over mother crushed in car on A82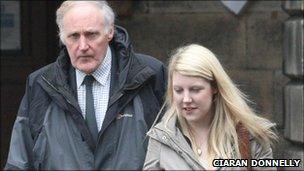 A retired teacher has been awarded nearly £180,000 in damages after his wife was killed on a Highlands road.
Caroline Hamilton, 50, from Argyll, died a week before Christmas in 2007, after a lorry carrying timber toppled over and crushed her car on the A82 Ballachulish to Fort William Road.
A jury decided on the damages paid to Ian Hamilton after Ferguson Transport (Spean Bridge) Ltd admitted liability.
The Hamiltons' 20-year-old daughter, Kirsty, was also given £140,000.
The Court of Session heard Mrs Hamilton, who worked for a voluntary organisation, was killed as she drove to attend a thank you lunch for volunteers in Fort William.
Mr Hamilton was asked by his counsel, Iain Armstrong QC, about life since the event and replied: "As far as I am concerned it is just like a void.
"I just keep myself as busy as I can and keep going.
"I don't really enjoy life all that much. I find it quite hard to be enthusiastic about things."
Ms Hamilton, a speech and drama student, said her relationship with her mother had been "very good".
"We were friends as well as mother and daughter," she said.
"We spent a lot of time together. I would tell her everything."
Ms Hamilton had gone to Inverness to live and study and was about to go on stage when she learnt of her mother's death.
She said her father was "beyond distraught".
She was asked if she had now come to terms with her mother's death and replied: "No, not really."
Mr Armstrong told the jury it was up to them to come to a decision on how to put a value on the loss suffered over Mrs Hamilton's death.
"She was taken, you may think cruelly, certainly prematurely from the lives of her husband and daughter," he said.