Campaigners against coastguard cuts welcome inquiry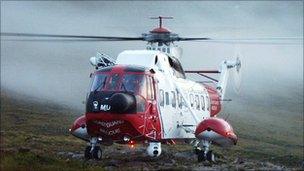 Scottish campaigners against cuts to the coastguard service have welcomed the news there is to be an inquiry into the proposals.
It has been announced that the House of Commons Transport Select Committee is to conduct a full inquiry into the consultation.
The plans include reducing the UK's 18 coastguard stations to eight.
The Maritime and Coastguard Agency (MCA) admitted it did not carry out a specific risk assessment of the plans.
Under the proposals, the cuts would leave only one main control centre at Aberdeen, with a second station operating in daylight hours at either Shetland or Stornoway.
The centres at Clyde and Forth also look set to close under the plans.
It is believed that the move will save about £7.5m a year and see up to 250 job losses nationwide by 2014.
Leader of Stornoway Coastguard Task Group, Western Isles Council leader, Angus Campbell, said: "This is a very welcome development.
"It is essential that the MCA proposals are subject to rigorous scrutiny and that all factors are taken into account before any decisions are taken.
"This Select Committee Inquiry clearly demonstrates the level of concern that exists in regard to the MCA proposals.
He added: "I hope that this inquiry will provide an opportunity for the task group and our colleagues in Shetland, Orkney and Highland to give evidence as to why we believe these proposals are so fundamentally flawed."
Scottish Liberal Democrat leader and Shetland MSP, Tavish Scott, said MPs would find that the MCA's plans were dangerously wrong.
He said: "A strong case has already been made for the retention of full-time coastguard stations in Lerwick and Stornoway, as well as the one in Aberdeen.
"The MCA's plan to leave just Aberdeen and one part-time station, in either Lerwick or Stornoway, is ill-considered and has rightly been widely condemned.
"If the MPs listen to the case, they will find that the extent and complexity of Scotland's coastline needs at least three full-time stations."
Related Internet Links
The BBC is not responsible for the content of external sites.