Highland Council savings proposal to close 11 schools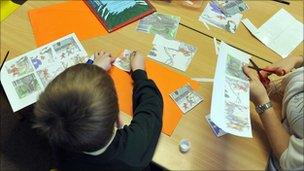 Councillors in the Highlands have suggested closing up to 11 primary schools in Caithness as part of a cost cutting drive.
An alternative plan would see seven schools in Wick and Thurso amalgamated, leaving one school for each town.
The plans come in response to pressure to modernise the council's educational infrastructure, much of which is outdated and in need of repair.
Councillors will vote on a finalised plan on 19 May.
The local authority has begun a review of its school estate to see which should be closed.
In Fort William, the process has already resulted in proposals to reduce the number of primary schools from five to three.
Proposals for the future of schools in Caithness include maintaining the status quo - which the council warned was unlikely - to cutting the number of schools from the current 18 to seven.
The council's director of education Hugh Fraser has stressed in a letter to head teachers that the aim of the process was to improve educational provision.
In the letter he said: "We are asking you to engage with your parent councils in this pre-proposal process.
"In doing so, we hope parents will be encouraged that the council is doing much more than is required by law and that they will therefore feel able to become involved constructively in the process, which has the aim of improving educational provision across the whole council area."
He is asking head teachers and parent councils to highlight any of the options they consider are not reasonable, realistic or viable and to identify any other options that would merit consideration.
The announcement comes less than a fortnight after Highland Council said it was withdrawing more than £300,000 in funding from the National Centre of Excellence in Traditional Music in Plockton.
During its budget meeting on 10 February, the authority said it was seeking to achieve £59m of savings over three years.
Related Internet Links
The BBC is not responsible for the content of external sites.