Gay community and police relations 'better' in Scotland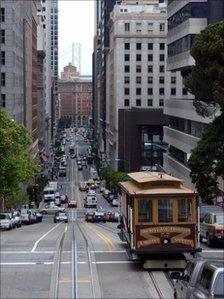 Community relations between the police and gay and lesbian people in Scotland are better than those in California, a Northern Constabulary advisor has said.
Lisa Buchanan spent four-and-a-half months with the San Francisco Police Department and the University of California last year.
She will start giving presentations on her research later this month.
Ms Buchanan studied San Francisco's Bay area because of its culture of lesbian, gay and bisexual communities.
The strategic diversity advisor told Northern Constabulary's e-magazine that she was drawn to the story of US gay rights leader Harvey Milk, who was assassinated in 1978.
He was elected to the San Francisco Board of Supervisors in 1977 and is credited with being the first openly gay man to be elected to public office in a major US city.
Ms Buchanan, who secured an award for her study, said she wanted to research how police relations with gay and lesbian communities had developed since the 1970s.
She said: "In terms of investigating homophobic hate incidents, their approach is comparable to ours, yet there are much fewer victims coming forward and I think this is a reflection of the strategic approach to community engagement.
"In Scotland, and in the north, I think we enjoy much better community relations than they do in San Francisco."
Northern Constabulary's chief constable Ian Latimer said in 2009 that combating hate crimes and the abuse of people because of prejudices against them would be at the heart of Scottish policing.
His comments were made as the Association of Chief Police Officers in Scotland (Acpos) launched a strategy promoting equality and diversity in police forces.
Mr Latimer said the move had nothing to with what "some still regard as political correctness".
He said at the time: "The police cannot work in isolation. Reducing crime and building safe and confident communities requires the assistance, trust and co-operation of everyone."
Northern Constabulary also launched Acpos's Diversity Handbook in 2009.
It provides officers with advice on dealing with honour crimes, forced marriages, disability, gender, faith and religion, race and sexual orientation.
Related Internet Links
The BBC is not responsible for the content of external sites.