Extreme sportsmen dress as Sir Jimmy Savile for stunts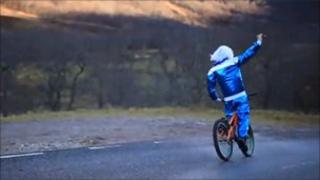 Some of Scotland's leading extreme sportsmen have been impersonating veteran broadcaster Sir Jimmy Savile to promote a Highlands town.
In a video for Fort William community company, Outdoor Capital of UK, the five are seen performing stunts on a bike, canoe, skis and ice climbing.
They include Edinburgh-based Danny MacAskill and mountaineer Mike Pescod.
Sir Jimmy, a regular visitor to the Highlands, introduces each of the clips.
Others in the film, which has been upload on the website YouTube, are cyclist and cross-country runner David 'Spook' Munro, skier Joe Barnes and canoeist Callum Anderson.