Lost Glenshee ski patrol dog lost in hole for two days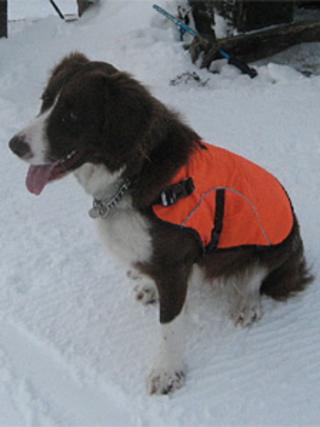 A lost ski patrol dog spent almost two days stuck down a hole in the Scottish hills before being rescued.
Bode disappeared while on her morning round, checking for hazards on the ski runs, with Kate Hunter, head of ski patrol at the Glenshee centre.
The young cross-collie vanished at about 1030 GMT on Saturday.
Ms Hunter's friends found Bode down a 5ft (1.52m) hole in peat, which was buried under heath and snow close to the centre, late on Sunday afternoon.
A Grampian Police officer in Braemar and neighbouring force, Tayside Police, had issued appeals to help find the missing dog.
Sportscotland Avalanche Information Service (SAIS), which is based at Glenmore Lodge, near Aviemore, also posted an appeal on its website.
Ms Hunter said dogs were not encouraged on the slopes, but she has been training Bode to help in the event of an avalanche.
She said: "If there was an avalanche in the ski area and Bode had half an idea where people might be buried then that would quicken the chances of a rescue.
"Bode comes with me when I open up, which involves going up and down the runs checking for hazards.
"On Saturday morning I was probably caught up thinking more about the job and less on what Bode was doing when she disappeared. It was as if she had been taken by aliens."
After the dog failed to show up later at the centre as hoped for, two of Ms Hunter's friends checked a nearby corrie.
Dog in drain
Fresh searches were made on Sunday by a second pair of friends. At about 1630 GMT on Sunday, one of them was guided by the sound of howling to Bode down the hole.
Ms Hunter said: "She was cold and wet but otherwise okay. She was allowed to sleep on the sofa on Sunday night."
Bode was back on the hill on Monday morning.
The collie-cross was not the only dog to be rescued on Sunday.
Inverness firefighters were called to the aid of a dog down a drain and used a hook to grab its collar and pulled it to safety.