'Powerful' wave device to be tested off Scottish coast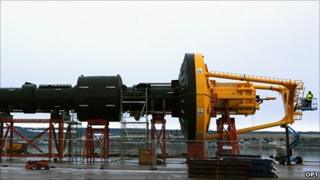 A wave power developer has said that its largest and most powerful device will be tested off Scotland's coast.
Warwick-based Ocean Power Technologies' (OPT) PB150 PowerBuoy will be deployed from Invergordon in the Highlands.
The trials of the wave power device have the consent of the Scottish government, the company said.
OPT said a single buoy could generate enough electricity for about 150 homes and on a commercial scale would be operated in groups.
The steelwork for the PB150 was fabricated in Scotland and its components in Warwick and also New Jersey, in the US.
A second device is being built and will be tested at OPT's site at Reedsport, in Oregon.