Fishing boat crews praised for rescue efforts off Rum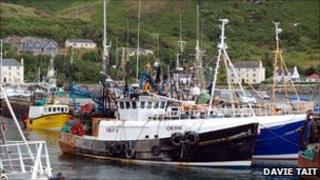 Four fishing boats and a lifeboat have saved another vessel with four people onboard from sinking off the north coast of Rum.
The fishing boat Caralisa got into difficulty at about 0553 GMT.
The Rebecca Janeen, Ocean Hunter, Viking Borg and Amethyst used their pumps to control water leaking into the hold and engine room.
Mallaig lifeboat joined the effort and put further pumps onboard before towing the Caralisa to Mallaig.
Stornoway Coastguard watch manager Martin Collins praised the rescuers.
He said: "All the fishing vessels who took part this morning are to be congratulated on an excellent job.
"Without the combined efforts of all four fishing vessels and the lifeboat there's a good chance that the Caralisa would have sunk.
"We now have the best outcome to an incident, all the crew are safe and well and the boat has been saved."