Loganair in warning over 'double summertime'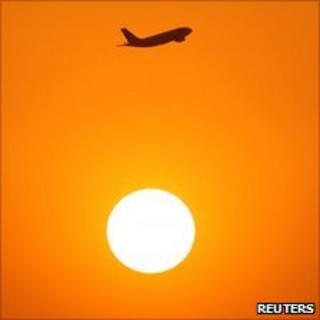 A Scottish airline has warned that a change to "double summertime" would affect its timetables for Orkney and the Western isles.
Glasgow-based Loganair's inter-island flights are done in daylight hours.
The UK government has been looking into the benefits of shifting clocks forward by an hour for all or part of the year.
But Loganair's commercial director Jonathan Hinkles said the shift would mean later flights for island school teachers and hospital patients.
The company runs services between islands in Orkney and those in the Western Isles.
Mr Hinkles said: "If daylight suddenly starts and finishes an hour later it will mean that all the time critical things at the beginning of the day, such as getting teachers out to schools and getting people in from the outer isles to Kirkwall for medical treatment, may well be an hour later.
"It is not for us to tell people if that is a good or bad thing, but it is an important part of this whole debate on 'double summertime' that needs to be considered before any decision is made."
Debate over a time change followed the publication last month of the Daylight Saving Bill.
Prime Minister David Cameron has said any plans to give the UK brighter and longer evenings will only become a reality if it is clear that the country is behind it.
But support for the move, which would make mornings darker, may depend upon where people are.
In London, sunset would be at 2222 on 21 June, which is the longest day of the year. But in the winter solstice, on 21 December, it would not be fully light until sunrise at 0904.
For Thurso in the Highlands, the sun would not set until 2327 in mid-summer but it would not rise until 1003 in mid-winter.