Kildonan gold for 2012 London Olympic medal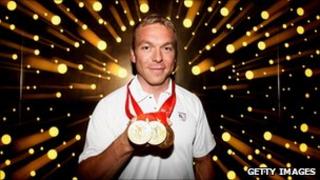 Enough gold has been recovered from a Highlands burn to help make a medal for the London Olympics in 2012.
The stream near the River Helmsdale in the Strath of Kildonan, Sutherland, was panned by volunteers.
Timespan museum in Helmsdale has been leading the effort and has offered the gold to the games' organisers.
About 12 grams of gold is believed to have been found, enough to plate at least one medal and go towards the making of a second.
The Kildonan gold hunt was launched in 2008, the same year Scots cyclist Chris Hoy won three gold medals at the Beijing Olympics.
Nicola Henderson, director at Timespan, said the project was part of the museum and art gallery's work documenting the history of the Kildonan gold rush of 1869.
She said: "A couple of thousand people a year still pan for gold on nearby Kildonan Burn.
"The dedicated ones may collect enough for a small piece of jewellery, but the main thing is that gold panning is an incredibly enjoyable and absorbing pastime.
"Small amounts are constantly swept down but no-one knows how, or from what source. It is a romantic part of our ancient archaeology."
The director added: "We are as enthusiastic now as we were when we first started on this project.
"We just love the idea of using the people's gold for the people's Olympics."
The medals will be plated using a mixture of all the gold found throughout the UK and it was expected details of all those areas will be known next week.