Walkers' refuge in Cairngorms to be refurbished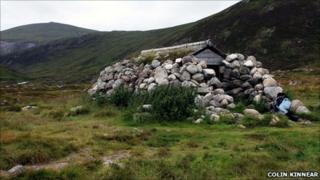 A mountain refuge is to be refurbished and improved for the first time since it was built 40 years ago.
The Fords of Avon shelter in the Cairngorms National Park was constructed by the military and sits on a route between Glenmore and Braemar.
The park authority's planning committee has approved the re-build.
The Cairngorms National Park Authority (CNPA) said the stone and timber-built refuge had saved lives in the past by offering shelter in bad weather.
Board member and Moray councillor Allan Wright said: "The shelter lies on the historic Lairig and Laoigh walking route from Glenmore to Braemar and I know from personal experience it can be an essential refuge when it's been difficult or impossible to cross the Avon.
"Walkers unable to find their way back over Cairngorm to the ski area have also been found at the refuge."
Sea King
He added: "It will be the first time any improvements have been made to the shelter in 40 years and I have no doubt the improvements will be appreciated by walkers like me for another 40 years to come."
The re-built shelter will resemble the existing one and will use the same stone work.
It will have a new timber structure, damp proof membrane with timber flooring and horizontal timber boarding.
The roof will be replaced with steel corrugated roof sheeting and will have some insulation and damp proofing.
An RAF Sea King helicopter will be used to remove the existing timber structure and airlift in the new one so as not to damage the surrounding landscape, the CNPA said.
Work will start in the late summer to avoid disturbing wildlife.