Spring snow fall covers Highlands and Islands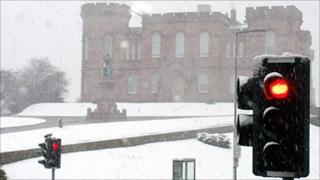 Heavy snow has hit many parts of the Highlands and has led to disruption at Inverness Airport.
The airport's runway was closed for a time to allow snow to be cleared and although passengers have been asked to check in there will be flight delays.
Northern Constabulary said that despite the weather all main roads were open.
Snow has also fallen in Midlothian and parts of the Borders and there are strong wind warnings for both the Skye and Kessock Bridges.
A spokesperson for Northern Constabulary said: "In exposed areas, snow showers and high winds are creating near whiteout conditions with hard packed snow on higher and untreated routes.
"The high winds and snow showers are expected to continue into the day."
Passengers on CalMac's Ardrossan to Brodick service are being told that the bad weather could cause disruption and cancellation.
One school in the Highlands, Stratherrick Primary, was shut because of the weather.
In the Borders, the A68 and A7 had been affected by snow along with higher routes in Berwickshire.
The Met Office warned that wintry showers would continue in the Highlands and Islands throughout the day.
It is predicted that rain, and snow on high ground, will push north on Wednesday night, with a longer spell of snow for Sutherland and Caithness.
To the south of the country there will be blustery showers and severe gales.
The enhanced content on this page requires Javascript and Flash Player 9
Map Key
Land
Cloud
Lakes, Rivers & Sea
Fog
Light
Heavy
Frost
Light
Heavy
Pressure Fronts
Cold
Warm
Occluded
Rain
Light
Heavy
Extreme
Snow
Light
Heavy
Temperature tab only
Temperature (°C)
More details from BBC Weather