Scottish schools tackle renewable energy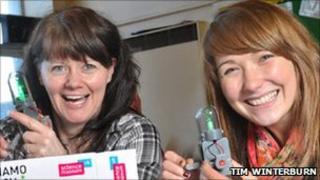 Projects are under way to encourage teachers and pupils to take an interest in renewable energy.
About 100 teachers will take part in workshops this year to raise their awareness and understanding of wind, wave, tidal and solar power.
The training is led by Highlands and Islands Enterprise (HIE).
About 150 pupils have also been involved in renewable energy science projects organised by the Scottish Council for Development and Industry.
The youngsters will showcase their projects at an event in Eden Court, in Inverness, on Friday.
'Huge potential'
The workshops for teachers in Highland, Moray and Argyll and Bute are being run by HIE's Science, Technology, Engineering and Maths (STEM) scheme.
Over the past three years, 330 teachers have taken part in the training.
Laura Robertson, HIE's development manager for young people and enterprise, said the Scottish government had set a target for 80% of Scottish electricity consumption to come from renewables by 2020.
She added: "This creates a huge potential for employment, with at least 28,000 jobs predicted to service the Scottish, UK and worldwide markets for offshore wind alone.
"It is therefore essential we engage with our future workforce at a young age to ensure they are equipped to make informed subject and career choices."