Searcher recalls 1951 Lancaster crash on Beinn Eighe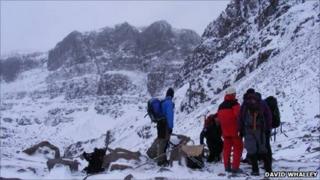 A member of an RAF team sent to find bodies after an aircraft crashed 60 years ago has recalled the recovery party's venture "into the unknown".
A Lancaster bomber, which had been converted for maritime patrol duties, crashed near the summit of Beinn Eighe, in Wester Ross, in March 1951.
All eight crew from, RAF Kinloss in Moray, died.
Joss Gosling said his team had no prior knowledge of the terrain they were having to search.
Now in his 70s, Mr Gosling has told BBC Radio Scotland's Out of Doors programme there was a delay in starting the hunt for the crash scene.
Following the crash he and the other members of the RAF Kinloss search party loaded rescue equipment into trucks, but they remained on stand-by for two days.
Mr Gosling said: "Nobody knew where it was and we couldn't go anywhere until we found some destination.
"Then the story goes that a lad saw a flash in the sky and he told somebody who told the police and then it reached Kinloss. That was when we got on the move."
Mr Gosling said the team were well equipped by 1950s standards for wintry conditions in the hills. They had studded boots, wind-proof clothing, sou'wester hats and capes.
However, he said they were lacking knowledge of the area. A non commissioned officer (NCO) had been to Slioch, another mountain in the area, but Beinn Eighe was new ground for the team.
Mr Gosling said: "Nobody really knew much about it.
"As far as I know nobody had ever ventured into that area. You were going into the unknown."
At first the team found wreckage before eventually finding bodies near the summit.
Mr Gosling said: "It was the first time I had seen a body. But we were doing a job and got stuck into it."
Difficulties in recovering all the bodies over several months led to the formation of RAF Mountain Rescue.
Most of the wrecked Lancaster was understood to have been destroyed in a later controlled explosion, but sections of wing and its Rolls Royce Merlin engines remain.
A small brass plaque on part of the wreckage recalls the accident and the area is known as Fuselage Gully.
More recent members of RAF Kinloss Mountain Rescue Team visited the crash site on Monday to mark the 60th anniversary of the crash.
In December 2008, a climber's fall during an avalanche was broken by a propeller from the plane. He survived the incident, but was badly injured.
Mr Gosling's interview with Out of Doors presenter Euan McIlwraith can be heard during Saturday's programme, which starts at 0630 GMT on BBC Radio Scotland.