Nessie animated short in Disney Winnie the Pooh film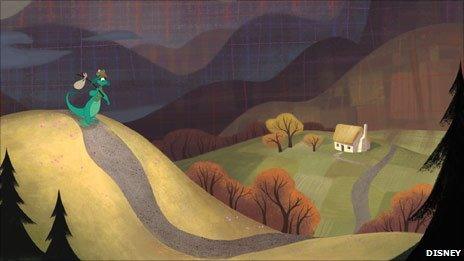 An animated short about the Loch Ness Monster has been attached to Disney's new Winnie the Pooh film.
Disney said The Ballad of Nessie was set in the "bonny blue Highlands" and sees the monster's home targeted by a "greedy land developer".
Called MacFroogle, he wants to build a mini-golf empire on top of Nessie's moorland home.
The animation has been hand-drawn and is narrated by comedian and actor Billy Connolly.
It will be shown before the start of the Pooh bear film.
Tourism agency VisitScotland has welcomed the short's link to the new Winnie the Pooh movie and said it could boost visits to Scotland.
In a statement, Disney said The Ballad of Nessie featured the work of award-winning directors Stevie Wermers-Skelton and Kevin Deters.
Regina Conroy joined the directors in writing the story and the short's musical score was composed by Oscar winner Michael Giacchino, who previously composed music for animated films Ratatoullie and Up.
Disney said: "Set in the 'bonny blue Highlands' of Scotland, The Ballad of Nessie is a whimsical and colourful tall tale about the friendly Loch Ness monster, Nessie, and how she and her best friend MacQuack the rubber duck came to live in the moor they now call home.
"Setting the adventure into motion is a greedy land developer named MacFroogle, who decides to build a mini-golf empire on top of Nessie's home."
Pixar is also expected to release a Scottish-themed animation called Brave in 2012.
Formerly called The Bear and the Bow, Empire film magazine has reported that characters will be voiced by Scottish actors Kelly Macdonald, Billy Connolly and Elgin-born Kevin McKidd.
Robbie Coltrane will provide the voice for another character, Lord Dingwall, the magazine said.
Set in the Highlands, it tells of princess and skilled archer Merida.
Scott Armstrong, VisitScotland regional partnership director, said Loch Ness and its legend of a monster were a huge draw for tourists.
He said: "Over recent years we are aware of the growing trend of 'set jetting' where visitors are influenced on where to holiday by films and TV coverage.
"Sony's blockbuster movie the Water Horse - Legend of the Deep provided priceless global exposure for Loch Ness in 2009 so VisitScotland welcomes news of this new short animation, featuring Nessie, to be attached to such a well known and popular character as Winnie the Pooh."
Winnie the Pooh will open in UK cinemas later this month.
Related Internet Links
The BBC is not responsible for the content of external sites.