New York Ellis Island tartan created for Scotland Week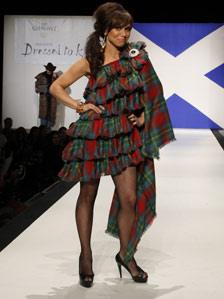 A tartan has been created to recall the role a New York island played in dealing with 500,000 Scots who migrated to America between 1892 and 1954.
The Ellis Island Tartan was commissioned as part of the Scotland Week celebrations taking place in the US and Canada.
It was created by the Clan Currie Society and modelled at New York's Dressed to Kilt fashion show.
The tartan has been donated to the Ellis Island Immigration Museum.
A chef and designer from the Highlands have also been making their mark during Scotland Week.
Michael Smith, head chef at The Three Chimneys, at Colbost, on Skye, has appeared on Canadian television giving cooking demonstrations.
Inverness-born Mr Smith will also be hosting a private showing of the 1949 film Whisky Galore.
Henrietta Ludgate, also of Inverness, has had her work modelled at Dressed to Kilt.
It included a pink neon creation modelled by Scot Amy Newlands at the show.
Scotland Week, a week long celebration of Scotland in North America, runs until 10 April.
Related Internet Links
The BBC is not responsible for the content of external sites.