'Fukushima radiation' checks stepped up in Scotland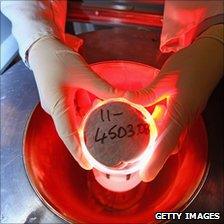 Monitoring for radioactive iodine believed to be linked to the crippled Fukushima nuclear plant in Japan has been stepped up in Scotland.
The Scottish Environment Protection Agency said very low levels of iodine-131 had been detected in almost all its air samples from across the country.
It has also been traced in grass samples from around Scotland and in one freshwater sample in Caithness.
Sepa has also been analysing soil and milk from cows and goats.
It said to date iodine-131 had not been detected in milk.
The agency has found the presence of iodine-131 in sewage sludge in Glasgow.
Sepa said that this could be linked to a combination of the isotope in rainfall together with authorised releases from hospitals.
In a statement, it said: "Analysis of this monitoring data indicates there are no radiological grounds for concern.
"Sepa has an ongoing comprehensive monitoring programme for radioactivity in Scotland, and has increased the level of scrutiny to provide ongoing public assurance on the effects of Fukushima in Scotland.
"The concentration of iodine-131 in these samples is of no concern to human health and all of the concentrations reported to date are below the levels where regulatory control is necessary."
Sepa takes air samples from Lerwick on Shetland and from Eskdalemuir, Brydekirk, Kirtlebridge and Eastriggs, in Dumfries.
Monitoring is also done by the agency at sites in Lothian, Renfrewshire and Caithness.
The Health Protection Agency carries out air monitoring in Glasgow.
Related Internet Links
The BBC is not responsible for the content of external sites.