Snubbed Dingwall Beatles gig crowd to be reunited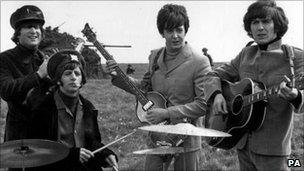 A reunion event is to be held later for people who saw The Beatles play in a Highlands town hall in 1963.
Nineteen watched the gig in Dingwall, Ross-shire, but within days of an appeal for audience members 24 people came forward saying they were there.
Billy Shanks, of Dingwall Business Association, has been involved in the effort to reunite the crowd.
A Beatles tribute band are to perform during the reunion celebration in the town hall.
Those who have come forward include members of the 19 people who paid to watch The Beatles. Others include people who had served teas, or were working in the cloakroom, on the night.
Mr Shanks told BBC Scotland in March that some who turned up thought the music was rubbish and left to join an audience of 1,200 watching a local band in nearby Strathpeffer.
He said The Melotones had been a bigger attraction on the night.
In the weeks following the Dingwall gig, The Beatles went on to have their first top 10 hit with Please Please Me.
Within a year they were the most popular band in the world.
Olive Lees, 64, was among the 19 audience members and stayed to the end of the gig even though her father Jimmy Stewart was band leader of the Melotones at the time.
She said: "My father told me the mini bus to the Strath was full so I'd have to go to the town hall.
"I wasn't bothered because the Melotones would come round to our house and play in the sitting room.
"I remember The Beatles were late in arriving and when they came on stage one by one they were wearing three-quarter-length leather jackets, long scarves - one was trailing his on the ground behind him - and winkle pickers.
"Everyone was laughing at them.
"But they were brilliant and they chatted with the audience between songs."
Mrs Lees, who later lived in Aberdeen for 42 years before returning to Ross-shire, will be attending the reunion.
Related Internet Links
The BBC is not responsible for the content of external sites.