Raigmore Hospital cleaning 'could be improved'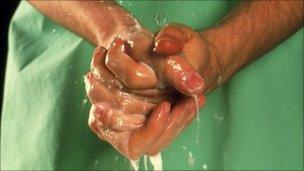 Cleaning procedures and staff training on hygiene need to be improved at a Highland hospital, a report has said.
However, inspectors issued several requirements such as the need for a regular mattress audit, and up-to-date infection control manuals for staff.
NHS Highland said work was under way to address the report's recommendations.
Inspectors visited Raigmore on 1 March, checking the intensive care unit and several other wards.
HEI chief inspector Susan Brimelow said: "The hospital was clean and well maintained and there was good awareness and implementation of isolation procedures for patients with known infections.
"However, we also found areas where improvement is required.
"Formal cleaning schedules must be implemented across all wards to ensure compliance with national standards, and NHS Highland has yet to finalise an education strategy to ensure staff receive regular education and training to prevent and control infection."
The report praised staff for their compliance with uniform policy.
Heidi May, board nurse director for NHS Highland, said: "The HEI report shows that whilst Raigmore Hospital is clean and in a good state of repair we can not be complacent when it comes to the prevention and control of infection.
"Work is already under way in addressing the requirements and recommendations contained within the report."
Raigmore lead nurse Una Lyon said staff had been able to demonstrate a clean and high-quality environment for patients, during the unannounced visit.
"Our ability to maintain this standard contributes to NHS Highland having one of the lowest rates of infection in Scotland," she said.
Related Internet Links
The BBC is not responsible for the content of external sites.