RSPB in appeal to farmers over kite poisoning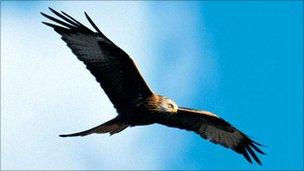 Farmers and land managers are being urged to stop using large quantities of rat poison in the summer in a bid to prevent red kite deaths.
The call by the Royal Society for the Protection of Birds (RSPB) came as it revealed 11 red kite chicks were poisoned by rodenticides last summer.
The birds were discovered dead or dying in four nests on the Black Isle and in Easter Ross.
This represented more than 10% of red kite chicks produced in the whole area.
Brian Etheridge, RSPB red kite officer for North Scotland, who has monitored the situation over the past 15 years, said the deaths were "devastating".
He appealed for farmers to prevent explosions in rat numbers so they would not need to use large quantities of poison and put kites and other species, including barn owls and wild cats, at risk.
He said: "We are very anxious to prevent a repetition of what happened last year. Red kites are beginning to pair up and select nest sites. Soon they will be laying and the chicks will be hatching.
"Rodenticide poisoning is a particularly painful way for any animal to die. Most rodenticides contain anticoagulants, which gather in the liver of an animal causing heavy internal bleeding."
The RSPB has produced an information leaflet on how to effectively control rodent infestation in a responsible way.
The leaflet contains impartial advice and best practice guidelines, such as searching for and correct disposal of dead and dying rats.
It also recommends that farmers who regularly see kites foraging around their fields and farm buildings be particularly cautious when using rodenticides, particularly in the summer months.
Mr Etheridge said: "We realise that rats and mice need to be controlled, but the main thing is to try to prevent a situation developing where farmers and landowners have to use rodenticides in great quantities. Then you end up with dead rats lying everywhere."
He also called on farmers to reduce their dependence on rodenticides by using rat traps throughout the year, and only use rodenticides in smaller quantities inside buildings, like barns and sheds, rather than in the countryside.
He added: "We would also like manufacturers to come up with less potent rodenticides because they are so powerful that anything feeding on a dead rat's carcass is also affected."
Related Internet Links
The BBC is not responsible for the content of external sites.