Polar bear Mercedes put to sleep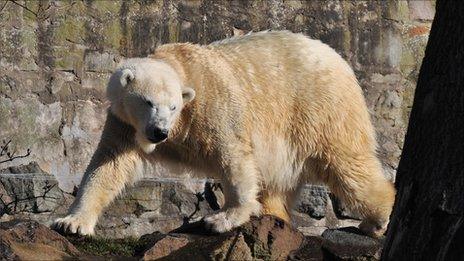 Mercedes the polar bear has been "put to sleep" after a "recent rapid deterioration in her welfare", the Royal Zoological Society of Scotland (RZSS) has announced.
The 30-year-old female bear was moved from Edinburgh Zoo to a new, larger enclosure at the Highland Wildlife Park near Aviemore two years ago.
She had been suffering severe arthritis which was treated with painkillers.
The RZSS said it was "with great sadness" that it announced the death.
Mercedes was captured after being rescued from being shot in Canada in 1984 and added to the animal collection at Edinburgh Zoo.
She was relocated to the park at Kincraig in 2009.
During her 25 years in Edinburgh, Mercedes reared two cubs, both sired by her partner Barney, who was born at Whipsnade Zoo.
After the death of Barney in 1996, Mercedes lived by herself at Edinburgh Zoo until she moved to the Highland Wildlife Park in 2009.
A two-year-old male polar bear called Walker was introduced to Mercedes's enclosure in November 2010.
However, an ageing Mercedes was not happy to play with a young cub.
A statement from the RZSS, which runs Edinburgh Zoo and the Highland Wildlife Park, said: "More recently we noted a marked and rapid downturn in her behaviour and her demeanour, and she appeared to be ageing very rapidly and possibly showing signs of senility.
"We had been keeping her separate from the male bear so as to avoid any possibility of him causing her to move more than she wanted to.
"Recently, all of the individuals responsible for her care sadly concluded that our only remaining option was to put her to sleep on age and health grounds."
Simon Girling, RZSS head of veterinary services, said: "We have been monitoring Mercedes's condition for some time now and have tried a number of different therapies for her advanced arthritis, which we were having some success with.
"However, even on medication, Mercedes has now taken a significant turn for the worse in terms of her mobility and is also showing signs of mental confusion.
"This deterioration in her welfare has prompted us to step in and humanely euthanase her."
Related Internet Links
The BBC is not responsible for the content of external sites.