New habitats 'needed' for capercaillie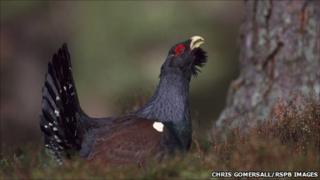 New habitats need to be created in Deeside and Perthshire to help save capercaillie from dying out in the UK, according to RSPB Scotland.
New figures suggest there are just 1,228 birds, with three quarters of the population in Badenoch and Strathspey.
RSPB Scotland said it was thought there had been as many as 20,000 in 1970.
By the 1990s, when the first formal counts were made, RSPB Scotland said numbers had declined sharply, particularly in Deeside and Perthshire.
Wet springs, affecting breeding seasons, and capercaillie dying after flying into deer fences have been previously identified as factors.
'Critically low'
Director Stuart Housden said the continuing fall in numbers was disappointing.
He said: "We particularly need to focus our efforts on further habitat creation and positive management for this species, especially in key areas like Deeside and Perthshire where the problems are most acute.
"This demands concerted and swift action with estate managers and conservation bodies working together to make sure the capercaillie remains part of the wonderful wildlife that makes Scotland such a special place."
Last month, SNH said Scotland's capercaillie population had become "critically low".
Red list
Perthshire, Argyll and Moray recorded the highest declines in capercaillie population in the past two decades.
Research involving SNH suggested capercaillie were now largely confined to just 11 sq miles (28.5 sq km) of woodland in Strathspey.
The capercaillie is on the red list of Birds of Conservation Concern.
The research was carried out under a partnership which included SNH, the Game and Wildlife Conservation Trust, the Forestry Commission and the RSPB.