Dounreay's toxic windows get robot wash after 30 years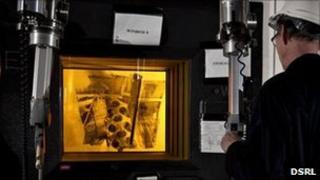 Remotely controlled robotic arms have been used to give windows inside a nuclear power plant their first clean in more than 30 years.
Thick layers of dust and oxides from sodium metal have been wiped off double glazed shielded glass at Dounreay's Prototype Fast Reactor (PFR) site.
Household cloths were used in the cleaning job at the Caithness plant.
Robotic arms had to be used because of the high levels of radiation on the dirty side of the glass.
The windows look in on "caves", enclosed areas previously used for handling nuclear waste.
Operations at Dounreay in Caithness ended in 2004 and the entire site is being cleaned up and demolished at a cost of £2.6bn.
Alex Potts, senior project manager at Dounreay, said: "The difference in the glass is striking and what was a hazy reflection is now a clear shining view through the window into the cell."