Lochaline school head teacher to double as firefighter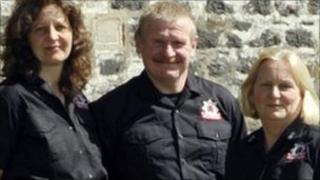 The head teacher of a new school being built in Lochaber will also be a retained firefighter at a fire station being constructed on the same site.
Lochaline Primary is being demolished in phases and will be replaced by a new two-classroom building with a fire station next to it.
Keith Adams is head teacher of the 21-pupil school and one of the local area's nine part-time firefighters.
He said: "I will have no excuse now for being late for a fire call out."
Mr Adams said the new school building had been eagerly awaited.
He added: "The pupils will really enjoy the new facilities and having the fire station incorporated in the school building."
Highlands and Islands Fire and Rescue Service has contributed £300,000 towards Highland Council's £3.2m project.
Work has started on the project and was expected to finish next summer.
McGregor Construction (Highland) Ltd, which operates from Inverness and Fort William, was awarded the contract.
Pupils helped to gather rare slow worms from the site of their new school last year.
The legless lizards were found by an ecologist asked to survey the new school site nearby.
Scottish Natural Heritage (SNH) recommended catching and relocating them before they went into hibernation.