Protect police officer numbers says George Graham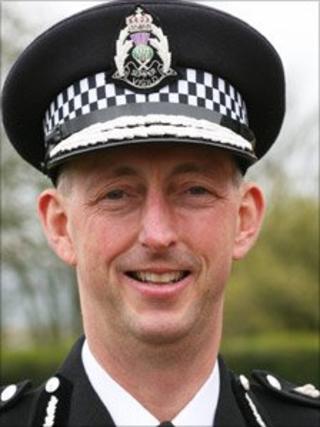 The new chief constable at Northern Constabulary has asked that savings be made at national level to help forces maintain staff and officer numbers.
George Graham was formerly deputy chief constable at Dumfries and Galloway Constabulary.
Northern has closed 16 of its 59 police stations to help enable it to maintain its strength of about 800 officers.
Mr Graham said he was keen to protect numbers of both frontline officers and support staff.
He told BBC Scotland: "There are things we can do at a national level to save money.
"There are lots of things we do across Scotland that we could perhaps do slightly differently to save an awful lot of money and, therefore, protect the officers and police staff who are so vital to the delivery of effective services right across Scotland and here in the Highlands and Islands."
Mr Graham also said he had yet to be convinced by the merits of a suggested single Scotland-wide police service in place of the existing eight forces.
His predecessor at Northern, Ian Latimer, had also opposed the creation of a national police force.