South Pacific lands rights study trip to Skye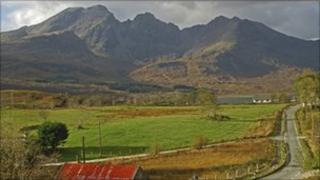 Two women involved in land rights issues on South Pacific islands will visit Skye as part of their research into community ownership of land.
Maria Latumahina, from West Papua, is making the study trip with Melissa Sinclair, whose father is Scottish and mother is from Tonga.
While on Skye they will give talks at the isle's Sabhal Mor Ostaig college.
The college event has backing from the Scottish Crofting Federation and Glasgow's Centre for Human Ecology.
On Skye, community groups run a ferry that crosses between the island and the mainland and also a petrol station and post office.
Iain MacKinnon, of the Scottish Crofting Federation, will accompany the women during their visit next week.
The pair will be at Sabhal Mor Ostaig on Tuesday evening to take part in an event called Peoples of the Land and Sea.
In 2008, while called the Scottish Crofting Foundation, the federation said crofters had a strong case to be considered an "indigenous" people by international law.
The organisation examined how United Nations legislation protecting groups such as Australian Aborigines and island tribes might apply in the Highlands.
It presented its findings in a report to the Scottish Parliament.