New home sought for deaf puppy Lobes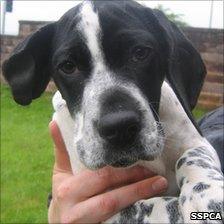 A new home is being sought for a deaf puppy whose owner had asked that she be put down because she was unfit to be a working dog.
Eleven-week-old female pointer Lobes is in the care of a re-homing centre in Inverness after being moved from her original home in Stornoway.
The Scottish SPCA said it was asked to step in by the vet asked to put the dog to sleep.
Lobes will need to be trained using hand signals.
Inverness centre manager Elaine Floyd said the puppy deserved a second chance.
She said: "Lobes was originally taken to the vet by her owner to be put to sleep but thankfully the vet called us to see if we could take her.
"She only has half of one of her ears although this is not the cause of her deafness.
"Pointers can be hard work to train even when they have their hearing so we are looking for an experienced dog owner who understands the needs of a deaf dog and appreciates the amount of work and commitment it will take to train and care for her."
Ms Floyd added: "Obviously deaf dogs can't respond to voice commands or clicker training, so the use of hand gestures and being able to develop a strong bond between you and the dog is very important.
"Ideally, Lobes will go to a home with an existing dog so she can learn her behaviours from the older animal as well as have some canine support when indoors and out and about on her walks."
Related Internet Links
The BBC is not responsible for the content of external sites.