Image of Orkney school's volcanic find published
By Steven McKenzie
BBC Scotland Highlands and Islands reporter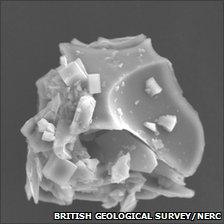 A new image shows an example of volcanic ash that fell over the UK earlier this week, according to the British Geological Survey (BGS).
The Edinburgh-based organisation asked the public to send it samples of ash that had drifted from the Grimvotn volcanic eruption on Iceland.
A scanning electron microscope was used to get the image from ash sent in by Kirkwall Grammar School on Orkney.
BGS has also produced a map plotting where samples have been sent from.
It shows sites on the Northern Isles, mainland Scotland and also across England, including London, Brighton and near Southampton.
Many finds have been sent in from the Highlands, including from people living in Strathpeffer, Muir of Ord, Inverness, Nairn and Aviemore.
Samples have also been sent in from Selkirk, Kelso, Dunfermline and from near Perth, Edinburgh and Glasgow.
Dr Sue Loughlin, head of volcanology at BGS, described the number and quality of samples received for analysis as exciting.
Schools and Met Office sites have been among those who have sent in ash for testing.
Dr Loughlin said: "The first samples of volcanic ash sent to the British Geological Survey from members of the public are being analysed.
"All samples examined so far contain basaltic ash from the Grimsvotn volcano."
"The image shows a grain of ash from a sample sent in by Kirkwall Grammar School in Orkney.
"The grain with concave surfaces is a fragment of basaltic glass, about the size of a pollen grain, and the concave surfaces are bubble walls."
She added: "The smaller cubic crystals on the surface of the ash grain are halite - salt crystals that have stuck to the ash probably as it comes into contact with ocean spray in the atmosphere."
The Scottish Environment Protection Agency (Sepa), meanwhile, said it has been closely monitoring the eruption and its ash clouds.
It has been checking air quality and rainwater samples looking for volcanic contaminants such as iron, manganese and copper as well as monitoring pH and fluoride levels.
Sepa results from Thursday showed no significant increases above expected levels in sulphur dioxide, nitrogen dioxide, or particulate matter across Scotland.
The agency added: "Although forecasts from the Met Office show that the high density volcanic ash cloud is no longer an immediate threat to the UK, Sepa will continue to gather and analyse dust, rain and air samples where possible and provide updates for the Scottish government, partner agencies and the general public on any impact to Scotland's environment."
Related Internet Links
The BBC is not responsible for the content of external sites.