Repairs planned for Kessock Bridge on A9 at Inverness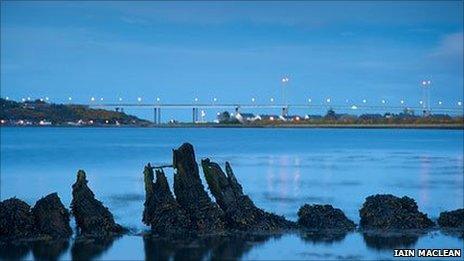 Motorists should expect "significant delays" crossing a bridge on the A9 at peak times during an eight-day repair project, a council has warned.
Highland Council said the works planned from 19-26 June on the Kessock Bridge at Inverness were urgent and essential.
Contractor Scotland Transerv said the northbound carriageway would be shut first, followed by the southbound.
Contra flows will be in place during next month's repairs to joints and parts of the bridge's road surface.
In a statement, Highland Council said: "At peak times significant traffic delays are anticipated.
"In order to reduce the impact of the works it is essential that the numbers of vehicles using that route are cut substantially."
Scotland Transerv has urged commuters and businesses to consider car sharing, using public transport, home working and staggered working hours.
Both lanes of the northbound carriageway will be closed for the first three days of the project to allow that section of the expansion joint to be dismantled and reassembled.
From 23 June, both lanes of the southbound carriageway will be closed until the evening of 26 June for work on the southbound joint.
Related Internet Links
The BBC is not responsible for the content of external sites.