Castaway island Taransay put up for sale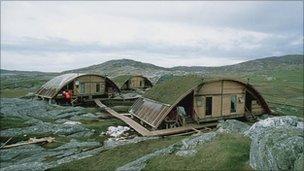 A tiny island in the Western Isles that featured in the BBC reality television series Castaway has been put up for sale.
Taransay, which lies off the isle of Harris, has an asking price of £2m or above.
In 2000 a group of people lived on Taransay, made up of two islands linked by a sand bar, for the programme.
Among those who took part was Ben Fogle, who now works as a TV presenter.
John Bound, of property consultants CKD Galbraith, which is managing the sale of Taransay, said: "If you've ever dreamt of owning your own island paradise then the Isle of Taransay has it all to offer.
"The island was put on the map when it featured in the television series Castaway which portrayed its true splendour.
"The traditional buildings provide comfortable accommodation and coupled with sporting, farming and holiday letting enterprises, Taransay offers a unique opportunity not to be repeated in a lifetime."
The island is said to be home of Celtic pagans in 300AD and was the site of several fierce battles, such as the Massacre of Taransay in 1544 when the Morrisons of Lewis invaded.