Woman killed in Cuillin rockfall named as South African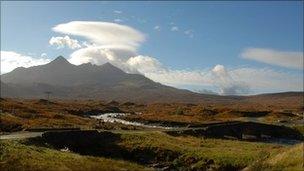 A climber killed in a rockfall on a mountain in the Highlands has been named by police.
Tessa Cousins, 56, from Cape Town, South Africa, was hit by a boulder on the Cioch Direct climb on the Cuillin hills on Skye.
Her climbing partner, who dislodged the boulder, was also injured when he fell in the incident on Tuesday afternoon.
Northern Constabulary said another man and woman injured during the incident were recovering in hospital.
Ms Cousins' climbing partner fell with the dislodged boulder, which then hit the man and woman in a separate climbing party.
A third party of climbers narrowly escaped being injured when they jumped out of the rock's path, emergency crews said.
All three of the injured climbers were taken to the Dr MacKinnon Memorial Hospital in Broadford on Skye.
The woman in the second party suffered injuries to her back and chest, while the man she was with broke a shoulder and hand.
The man was described as "some kind of iron man" by mountain rescue after walking down the mountain to raise the alarm.
Related Internet Links
The BBC is not responsible for the content of external sites.