Lewis crofters in Pairc Estate buy-out bid setback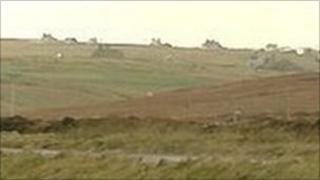 Crofters have suffered a setback in their bid to mount a hostile buy-out of a crofting estate on Lewis, in the Western Isles.
In March, the Scottish government approved Pairc Community Trust's bid to take over the 26,800-acre (10,845-hectare) Pairc Estate.
But the government has now suspended the announcement of its valuation of the land.
It took the decision pending a legal challenge by landowner Barry Lomas.
Mr Lomas is due to take his case to Stornoway Sheriff Court later in June.
The land value had been due to be made public at a meeting on the island on Thursday evening.
But the move has been put on hold until the legal issues are resolved.
In a statement, the Scottish government said: "Once the appeals process has been concluded and if the sheriff upholds ministers' decision, the valuation exercise can be resumed."
The community trust said it would continue to take forward its fundraising campaign for the buy-out.
Four hundred people live on the estate, which has 208 crofts.
The buy-out was approved by Environment Minister Roseanna Cunningham under the provisions of the Land Reform (Scotland) Act 2003.
She said in March the plans "should help inject new life into the area, rejuvenate the economy and boost the fortunes of all those who live, work and visit this spectacular part of our country".