Fans gather for RockNess music festival near Inverness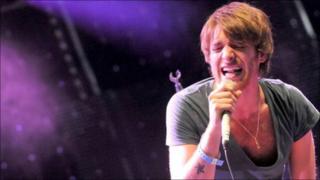 Music fans have arrived at Dores, near Inverness, for the RockNess festival close to the shores of Loch Ness.
The three-day event runs through to Sunday night.
Kasabian, the Chemical Brothers, Paolo Nutini, Magnetic Man, Katy B and Two Door Cinema Club are among the acts to perform.
More than 30,000 people attended over the three days last year, when headline acts included Fatboy Slim, Leftfield, Blondie and The Strokes.
Those travelling to the site on Friday from the central belt faced delays after a fatal crash on the A9.
A woman driver was killed after her car was involved in a crash with a tour bus.
In the guide to the festival, organisers encouraged people to think about reducing their carbon footprint.
The event is now in its sixth year.
Promoter Jim King said about 35,000 people were expected to attend over the three days.
He said: "I think it is probably going to be our biggest RockNess ever.
"Ticket sales have been really good this year. People are coming from all over the UK, predominantly from Scotland."
Mr King said it had been "tough" for organisers and festival-goers in recent years, which have seen an economic downturn followed by recession.
He said: "It's been tough the last couple of years, but I think people are quiet resilient about going out and enjoying themselves.
"There are not that many festivals in the summer and people tend to save up to go to those that are held."
Mr King said he expected Kasabian to "absolutely take the roof off" during their performance on Friday.
The promoter also expected Nutini to attract a huge crowd on the final night.
He said: "Paolo is the most important singer of his generation in Scotland.
"I think it is going to be an incredible close to the festival."
Northern Constabulary has previously praised RockNess festival-goers for their good behaviour and said they anticipated another good natured event.
The police have, however, warned revellers against drink and drug abuse.
Amnesty bins have been placed at the festival's entrance to give anyone carrying illegal drugs a chance to get rid of them before going onto the site.
Event Commander Supt Stevie MacKay said: "As with previous years we are looking forward to RockNess 2011, which in particular has enjoyed a relatively low level of crime and serious incident.
"However we are not complacent and a considerable amount of planning has gone into this year's event to ensure that not only RockNess is sufficiently policed, but that the rest of the force area is unaffected."
Northern Constabulary will be posting safety advice for revellers on social networking websites.
The force has also asked for feedback from festival-goers on its police of the event.
Supt MacKay said: "Anyone who wishes to find out what is happening at the event should look at our Twitter and Facebook pages, which will be updated over the duration of the event.
"We always seek feedback of the policing at this event from those attending so anyone wishing to do so should e-mail feedback@northern.pnn.police.uk."