Wick Haldanes supermarket staff 'will be paid'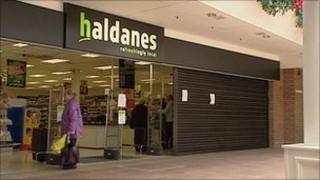 Haldanes supermarkets have said that staff in Caithness will be paid by the end of the week.
The store in Wick is among the chain's Scottish stores closing on Tuesday after the company went into administration.
Eighteen staff at a Haldanes supermarket in Caithness had claimed they had not been paid for two weeks.
It was understood four stores out of the 13 stores in Scotland would be sold off and the remainder closed.
Haldanes said it had been explained to staff that they would be paid on Friday, their usual monthly pay day.
Wick store manager Jennifer Oliphant said the company had struggled to meet wage bills and deliveries of produce.
Haldanes was launched less than two years ago and was the first new supermarket chain in the UK for 27 years.
Haldanes bought most of its stores from the Co-operative group, which was forced to sell some shops by the Office of Fair Trading following its acquisition of Somerfield.