New Northern Constabulary drugs dog in RockNess test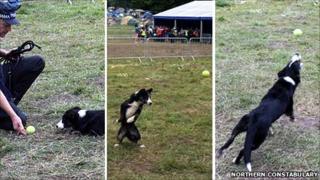 A young collie was taken to the weekend's RockNess music festival near Inverness as part of his training to become a police sniffer dog.
Called Ollie, he was not used operationally but Northern Constabulary said it was important he experienced being among large crowds of people.
About 35,000 gathered on the shores of Loch Ness at Dores for the three-day event.
Working police dogs were involved in making 243 positive drug searches.
While the number of drug searches was up on last year, crime overall at the festival was down, Northern Constabulary said.
An album of photographs of Ollie at play with his handler Sgt Niall MacLean during a break in training at the RockNess site have been posted on the force's Facebook page.