NHS Highland holds talks over Raigmore maternity review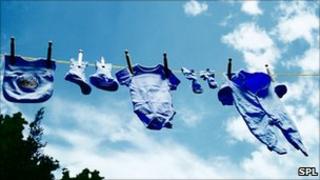 A review of maternity services at Raigmore Hospital has been discussed in a meeting between NHS Highland, 47 midwives and Royal College of Midwives.
NHS Highland closed six maternity beds at the hospital in Inverness on a trial basis earlier this year.
There are also proposals to change the shift patterns of midwives.
Women who give birth without any complications could be encouraged to go home after six hours in hospital, under the plans.
A petition has been started to protect maternity services at Raigmore.
NHS Highland said the meeting gave staff, management and the unions an opportunity to discuss the review and share their views and ideas.
Chris Lyons, general manager of Raigmore Hospital, gave a brief overview of the proposals being considered by the Raigmore management team.
In a statement, NHS Highland said: "It was agreed at the meeting that patient care was the absolute priority and something that we are all passionate about.
"As a result of the meeting today a smaller working group has been set up with representatives from both midwifery staff, the management team and partnership.
"Drop-in sessions have also been offered to all staff over the course of the next few days to allow them to raise any concerns they have in private."