'Humpback' whale seen in Moray Firth in the Highlands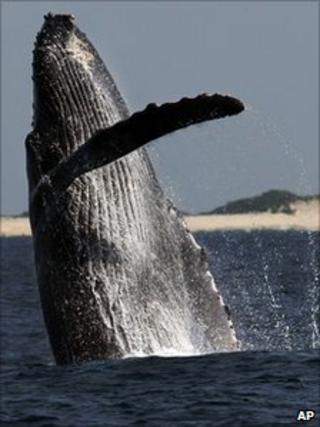 A large whale, possibly a humpback, has been spotted in the Moray Firth in the Highlands.
The sighting was made by Sea Watch Foundation regional co-ordinator Howard Loates off Chanonry Point, near Fortrose, from 0630 to 0830 BST.
Mr Loates said a humpback was seen near Aberdeen on Thursday.
Charlie Phillips, a Whale and Dolphin Conservation Society (WDCS) field officer, said humpbacks were a "once in a decade sighting" in the Moray Firth.
He has sought further sightings of it.
Mr Phillips said at one point the animal was swimming towards shallow water at Alturlie, near Inverness, but had turned around.
It was later reported to be propelling itself up out of the water, or breaching, in deeper water.
Mr Phillips said breaching would suggest the whale was healthy.
A sperm whale died after beaching at Alturlie in 2008.