Pair set two week Scottish island hitch hike challenge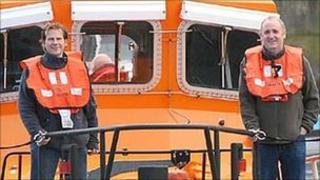 Two men have set themselves the challenge of visiting as many Scottish islands as possible in 14 days.
Jim Campbell, 39, and Brian Ferguson, 38, both from Leith, Edinburgh, have dubbed their venture HitchHop and will raise money for the RNLI.
The pair will travel between islands using ferries, but also hope to mainly hitch lifts over sea and land.
Their trip will start in July from a port they have not yet named and, if successful, end at the Butt of Lewis.
Mr Ferguson, a journalist, said they hoped to reach at least 30 islands if the weather was good.
Mr Campbell, who works in the mental health sector, said: "There's loads of islands we'd like to visit during HitchHop, but a lot will come down to where our lifts take us, either on dry land, or on water.
"Whatever happens, we're going to need a bit of luck along the way."