Mirrored yacht Celeste in Skye arts radio project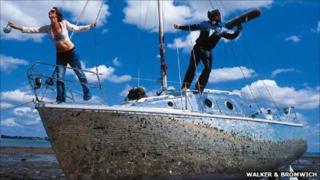 A yacht decorated with 60,000 tiny mirrored tiles is to be the centrepiece of a arts project on Skye.
Artists Zoe Walker and Neil Bromwich are gathering stories and sounds from fishermen, poets, musicians and other islanders.
These will be broadcast from a radio station on the yacht Celeste while it lies off Portree in September.
People will be able to listen using radios while they walk along paths on the islands.
The arts project has been called Bonnie Boat, Bata Breagha in Gaelic.
The Celeste has previously toured the Kent coast.
Walker and Bromwich have also staged live arts performances at the Whitechapel Gallery in London, Glasgow's Centre for Contemporary Arts, Modern Art Oxford and at Tate Britain.
Atlas, a new arts organisation on Skye, is involved in the outdoor arts project.
The recordings will be broadcast for 24 hours on 10 September.