Mountaineering body's wind campaigns 'lacked success'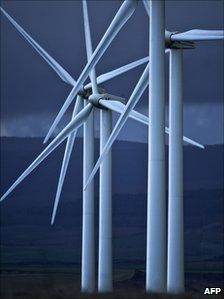 The outgoing president of the Mountaineering Council of Scotland (MCofS) said it has been unsuccessful in campaigns against wind farms.
The body representing climbers and walkers has objected to projects in the Monadhliath mountain range.
It has also opposed schemes close to the boundaries of the Cairngorms National Park.
But Chris Townsend said there had been an "overall lack of success" in blocking the turbines.
He has made his comments in the council's annual report, which will be discussed at its AGM on 3 September in Dunblane.
In the report, Mr Townsend goes on to highlight progress in other conservation efforts, such as protecting public access to land and campaigning for changes to rules on the creation of hill tracks.
On wind farms he said: "Campaigning against these and other threats to the mountains is essential work and will continue but, given our overall lack of success, we do need to think of new methods and come up with new ideas to combat the despoliation."
According to Scottish Renewables' website, the capacity of onshore wind farms to generate electricity is greater than any other renewable energy source in Scotland.
Turbines also play an important part in meeting Scottish government energy targets, the body has said.
Figures gathered in April this year showed wind farms produced 2,574.21 megawatts (MW) of electricity, while hydro generated 1,395.6 MW.
Meanwhile, the MCofS annual report also showed it had its busiest year yet in providing safety courses.
Its mountain safety programme had 1,379 participants, with a winter lecture series being the most popular course drawing 935 people.
2010-11 was also a record year for the MCofS in terms of membership recruitment.
The council's work with young climbers was also highlighted, including that Scottish athletes now make up almost 50% of the Great Britain climbing team.
Related Internet Links
The BBC is not responsible for the content of external sites.