9/11: Witness recalls 11 September attacks on New York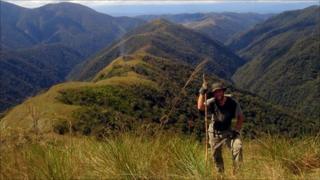 As the 10th anniversary of the attacks on the US on 11 September 2001 approaches, the BBC Scotland news website tells the stories of people caught up and touched by events of that day.
This first story is told by Aberdeenshire Council archaeologist Bruce Mann who witnessed the attacks on New York's World Trade Center.
The 34-year-old, who lives in Aberdeen, was trying to get home from an expedition in the jungles of South America.
"It was only supposed to be a two hour stop over at New York's JFK Airport following a flight from Sao Paulo.
Eight of us were on an American Airlines flight for Heathrow, but one of our party had decided to stay on in New York.
Before we parted company, Barry said he was going to have his breakfast at the Twin Towers.
Our plane was sitting on the tarmac.
We were told there would be a delay because of technical difficulties, but we assumed everything would be okay and it would be fixed.
I looked out of the window towards two towers visible above the airport buildings.
Smoke was coming from one of the towers.
I was tired and did not appreciate that what I was looking at was the Twin Towers. I thought they were chimneys and some of us commented how surprising it was to see that level of pollution in New York.
As I watched I saw a plane fly into the tower that was not smoking. There was an explosion and a fireball.
I turned to an American teenager listening to a personal stereo in a seat behind me and asked him what the buildings were.
Turning to the window he immediately recognised them as the Twin Towers.
Thirty seconds to a minute later the pilot made an announcement. He said there had been a terrorist attack and that we must disembark.
Back in the main terminal there was absolute hysteria.
People were tripping over luggage, sending the contents spilling across the floor.
We went into expedition mode and gathered together our gear and got ourselves outside.
High in the sky we could see fighter jets.
A TV news crew approached us and after a quick interview we asked the reporter what was happening.
She said the main rumour was nine planes had been hijacked in the sky.
We managed to get ourselves booked into a hotel at the airport and offered what help we could to two police officers, who were trying bring a scene of pandemonium under control.
Two medics who were on the expedition went to Ground Zero.
Because mobiles were not working, we went out to the front of the hotel to use our expedition's satellite telephone to contact our families and office in London.
But someone in the hotel mistook the satellite pack for something more sinister and staff began to evacuate the building from the rear entrance.
One of the policemen we had spoken to earlier came out and once he saw it was us he told everyone it was okay and stopped the evacuation.
Later, the medics returned from Ground Zero. They were covered in grey dust.
One of them, Sam, told me that we should stay away from the site. He said they had spent the whole time retrieving body parts.
Eventually, we did get some good news.
Barry, our colleague who had decided to go for breakfast at the Twin Towers, managed to get a message to the expedition office back in the UK to say he was safe.
He had got so hungry he stopped for something to eat before reaching the World Trade Centre.
It was nine days before we were able to get a flight home.
For those nine days we were caught in a surreal limbo.
There are some things I can remember with clarity as if they had happened just yesterday and other memories that are a bit fuzzy.
Many of those we came in contact with were waiting to hear about family and friends who were missing.
There were posters on walls and in parks appealing for help in tracing survivors.
One thing which I can remember very clearly was walking past a fire station. It was an eerie sight.
The station's doors were open. The engines were gone and there were no firefighters, but there was an older fireman standing outside surrounded by a crowd of people and there were lit candles on the ground.
Everyone stood in absolute silence.
The scene seemed to be significant. Absence as a sign of loss can be very powerful."