Hundreds queue outside Nairn's new Sainsbury's store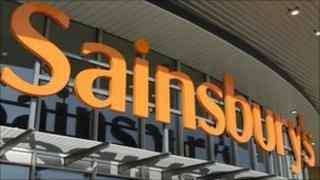 Up to 200 people have queued outside the first Sainsbury's supermarket to be built in the Highlands ahead of it opening for business.
The store and petrol station on the east side of Nairn, near Inverness, cost about £20m to construct.
Managers said the first day also saw deliveries of shopping ordered online made to Elgin and Beauly.
Ahead of construction archaeologists uncovered the remains of a camp fire dating from the Mesolithic period.
Archaeologists believed the remains of burned oak uncovered at the store site was evidence of an ancient "rest stop".
They radiocarbon-dated the hearth to the Mesolithic period, which started as the last Ice Age ended about 12,000 years ago.