Western Isles fishermen lock out invited SNH staff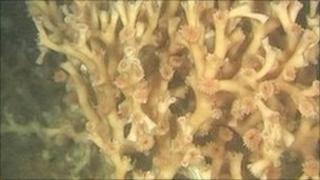 Staff from Scottish Natural Heritage (SNH) were invited to and then locked out of a meeting with fishermen.
Three representatives had gone to the AGM of the Western Isles Fishermen's Association in Lochmaddy on North Uist.
Islands fishermen have been angered by moves to designate an area of seabed as a Special Area of Conservation.
Association members said they had decided SNH was not listening to them. SNH said it was disappointed its staff were barred from the weekend meeting.
Last month, Scottish ministers approved plans to designate an area of seabed off East Mingulay, in the Western Isles, as a Special Area of Conservation.
The European Commission will be asked to place it among the European Union-wide Natura network of protected areas.
Ministers said the move would help protect a rare coral reef about eight miles (13km) out to sea.
'Weekend plans'
The plan for the designation was put out for consultation in 2010.
The islands' SNP MSP Alasdair Allan said last month that people on Barra, close to the seabed involved, had "clearly indicated their concerns" about the designation.
Worries had been raised about the impact on fishing.
SNH said its staff were invited to attend the association meeting.
A spokesman said: "They had changed their weekend plans to allow them to attend the meeting to deliver a presentation to the association as requested.
"However, as they arrived the staff were informed that they could not get in.
"We are disappointed that our staff did not have the opportunity to make a presentation, as they had been asked."
The spokesman added: "We are committed to the consultation process and we are committed to talking to all those involved."