Carlisle-based nuclear firm outlines Highland rail plan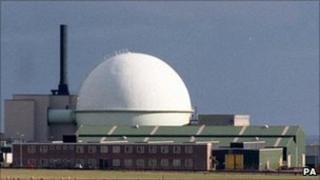 A subsidiary of the Nuclear Decommissioning Authority (NDA) has outlined potential improvements to the Far North Line in the Highlands.
Direct Rail Services (DRS) has suggested creating a new railhead, or freight terminus, in Caithness.
It has also said possible improvements at the Workington port in Cumbria could give the Highlands access to a new trade route to Europe.
The NDA has consulted on moving nuclear material from Dounreay to Sellafield.
A spokesman said if this plan was to go-ahead, a railhead could be created near Georgemas Junction where railway lines from Wick and Thurso meet.
He added that the terminus could have other roles beyond the loading of material from Dounreay onto trains, such as delivering goods to and from Scrabster harbour on the Caithness coast.
'Invested substantially'
In the latest edition of its in-house newspaper, Dounreay Site Restoration Limited (DSRL) said the railway improvements would support economic regeneration in Caithness and help with the proposed movement of the breeder material.
DSRL said Carlisle-based DRS had already "invested substantially" in the railway terminal in Inverness and is now considering a new railhead in Caithness.
It also said the company had been named the UK's Best Performing Rail Freight Operator.
DRS outlined its plans in a meeting with members of Caithness Transport Forum, Dounreay Stakeholders Group and Caithness and North Sutherland Partnership's advisory group.
How improved rail services could create more business opportunities was discussed during the meeting.
DRS was set up in 1995 to service the nuclear industry, but has since expanded into other markets.
Preferred option
Last week, the NDA said it has been "open and direct" about its proposals to move radioactive material by rail.
Tonnes of breeder material could be moved from Dounreay in Caithness to Sellafield in Cumbria for reprocessing.
The BBC Scotland news website reported last month that this was preferred to handling it at Dounreay.
Highland Council has asked the NDA to consult directly with communities along the Far North Line.
SNP MSP Rob Gibson said a decision on the fuel should not be taken until the outcome of a bidding competition to takeover the running of Dounreay was known later this year.
NDA spokesman Bill Hamilton said the plan to move the material by rail had been in the public domain and was open to consultation.
He said transporting the material by rail to Sellafield for reprocessing was the NDA's preferred option.
On the railway improvement plans, he said: "In order to proceed with the rail option clearly we would need to fund a suitable site for a new railhead.
"They (DRS) are looking at a site near Georgemas.
"There are a number of benefits this could have to the community and to the socio-economic future of the area. I am thinking here of things like the development of Scrabster harbour."