Gifts meet polar bear Walker's demand for hard hats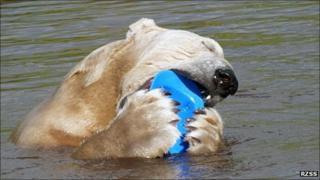 Plastic hard hats are being donated to a wildlife park after the helmets became the favourite toy of the site's 58-stone male polar bear.
Gifts of the protective head wear started arriving at the Highland Wildlife Park after images of Walker chewing one appeared online.
Staff said Walker "lights up" when he sees someone bringing him a hard hat.
Walker shared an enclosure at the Kincraig park with aged bear Mercedes until she was put to sleep in April.
Head keeper Una Richardson said: "Polar bears are naturally very playful animals and Walker is no exception.
"While he has many toys, including traffic cones and plastic barrels, he loves hard hats which he can pounce on and get a hold of with his jaw."
The head keeper first discovered Walker's affinity for the head gear when volunteers from the Royal Monmouthsire Regiment Territorial Army and the 73 Engineer Squadron Territorial Army visited the park to assist with construction projects.
Ms Richardson said: "Walker showed a huge interest in the volunteers' hard hats.
"He totally fixated on a hard hat one of the volunteers was holding, so we thought we would offer him one and see what he did with it."
She added: "Hard hats don't last very long once Walker's got a hold of them. After two days they are ruined so we are delighted to receive donations to keep up the supply."
The park is owned by the Royal Zoological Society of Scotland.