9/11: From Glasgow to 'horrific day' in New York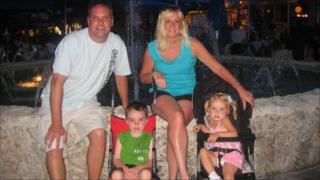 In the last in our series on 11 September 2001, a brother and sister recount their experiences of that day.
Ian Gilmartin, 44, and Lorraine Blevins, 42, moved from Glasgow to the US with their parents Patrick and Elenor in 1982.
On 9/11, Lorraine was at work in the World Trade Center's south tower, while Ian was on a site visit in New Jersey.
Ten years on, Lorraine continues to work for financial firm Morgan Stanley, who was her employer in the WTC.
With her husband John she has two children - Sean, four, and Brooke, two.
Ian worked for a hospital at the time of the attacks and is now a senior sales manager. He and his wife have a one-year-old daughter.
He gives an insight into the anguish of families waiting for news of loved ones caught up in the attack.
Lorraine
On the 60th floor of the World Trade Center's south tower Lorraine was talking with a colleague about getting some breakfast.
In a heartbeat, mundane decisions on what to eat turned to taking ones that would determine whether the then 32-year-old would live or die.
Lorraine said: "I remember the moment of impact when the first plane hit the first building and the noise of metal clanking outside of my window.
"I remember making the decision to go to street level and take a look up and make sure everything was okay."
There was an announcement advising staff to stay where they were, but Lorraine and others chose to ignore it.
She bumped into a friend and together they reached the 44th floor when a passenger jet flew into their tower.
The floor beneath their feet rippled with the force of the impact.
Lorraine, her friend and others headed for a stairwell and fled down flights of stairs and made it outside.
She said: "I don't think I will ever forget the hysteria on the streets, running alongside hundreds of people away from the buildings while hundreds of police cars, ambulances and fire trucks were heading towards the towers."
It was hours later before Lorraine's family knew she had survived.
Their efforts to contact her were thwarted by disruption to mobile phone communication, and later, the batteries on Lorraine and Ian's phones running out.
On New York City following 9/11, Lorraine said: "I don't think the place has changed much.
"I guess you see more flags flying than ever before.
"I do, however, think that the entire world has changed."
Ian
"I was working for a hospital at the time of 11 September and was on a site visit in New Jersey," Ian said.
"When the attacks happened I told my regional boss he would need to step in because the hospital would be expecting a lot of injured people.
"As it turned out there were not the numbers of casualties expected."
Ian headed for his parents' home in New Jersey to offer them what support he could as they waited for news of Lorraine.
Ian said: "I felt helpless.
"I remember trying to call my sister over and over and never getting past her automated message.
"I'll never forget calling non-stop just trying to hear her voice."
He added: "I drove like a maniac trying to get to my parents.
"I was listening to the news on the radio and they were talking with someone who was positioned on a rooftop somewhere close to the World Trade Center.
"She was talking about what she was seeing and all of a sudden she screamed that the north tower had collapsed.
"I remember not being able to feel my legs while I was driving.
"Cars pulled over on the highway as you can see Manhattan from the New Jersey Turnpike. I was too scared to look.
"I remembered thinking that there was a 50/50 chance that was my sister's building. While I was still driving the south tower collapsed.
"I had accepted that I had probably lost my sister at that time and, for some reason, on the rest of my drive home I was thinking about the eulogy I would be giving to my sister."
Ian continued to call Lorraine's mobile. He said: "It was like being jammed on a hamster's wheel - going round and round and getting nowhere."
Eventually a friend, who had managed to contact Lorraine as she ran down flights of stairs to escape the tower, was able to tell the Gilmartins that she had survived.
Lorraine's parents and her brother drove to the Giants' American football stadium where New Jersey residents evacuated from Manhattan were being dropped off.
'Horrific day'
Ian said: "There was possibly hundreds of buses which were dropping passengers off.
"I missed a call from Lorraine stating that she was in the stadium parking lot but there were thousands of people there.
"Both of us had lost power on our mobile phones due to the constant dialling all day."
The Gilmartins waited at the stadium until everyone else had left, but there was still no sign of Lorraine.
Eventually the family was reunited at Patrick and Elenor's house where a friend had dropped her off.
Ian said the focus for the anniversary weekend was taking Lorraine's son to see his first professional soccer game.
"For the anniversary I doubt we are going to do anything. I don't think our family have spoken much about it ever since. It's a topic we don't dwell on," he said.
"That day was a nightmare."
He said: "I have never been to Ground Zero. The closest I have been is the Lincoln Tunnel. I am just not interested.
"9/11 was a horrific day. One of my colleagues lost his brother that day."
Ian added: "It has been a hard couple of weeks."
Hurricane Irene
Only in the past few days have he and his family been able to return to their New Jersey home following Hurricane Irene.
About 20 trees within a quarter of a mile of their property were felled in the storm bringing down power lines and cutting electricity.
The Gilmartins moved to a hotel before staying with relatives until power was restored.
Ian said: "Before the hurricane we had an earthquake."
August's magnitude-5.8 quake was one of the most powerful tremors to hit the US east coast since 1897.
Ian, who was at work at the time it struck, said: "All of a sudden the floor started shaking. I have never experienced anything like it. It was scary."
Returning to the 9/11 anniversary, he said: "I think in the back of many people's minds is a fear that some idiot will try to make a name for themselves and do something stupid on the anniversary."